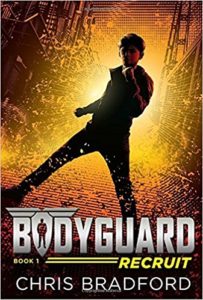 Connor Reeves is the latest recruit in an elite organization that provides bodyguards for high profile clients. But Connor and his fellow bodyguards are unlike those of any other organization in the world: they are teens. They have an advantage over older bodyguards, because they seem to be ordinary kids who are merely friends of the people they are protecting.
That's the premise of a new series by Chris Bradford called Bodyguard. Based on the first two books in the series that I have read, Recruit and Hostage, the series is fast-paced and packed with adventure.
Connor has some experience in self defense when he joins the organization called Guardian: he wins the Battle of Britain Junior Kickboxing Tournament when Recruit opens. His training provides even more. He learns to assess threats, conduct surveillance, avoid ambushes, and gain skills in unarmed combat. Author Bradford went through bodyguard training himself, learning these same skills so he could write in a realistic way about them.
Four titles in the series have been released together, making it great to pick up for summer reading. In Recruit and Hostage, Connor gets training and goes on his first assignment, which involves protecting the daughter of the U.S. president when she slips away from her Secret Service detail. Action in books three and four moves a luxury yacht and involves the children of an Australian media mogul.
I recommend Bodyguard for readers aged 10 and up.
The publisher provided me with a copy of this book in exchange for my honest review.