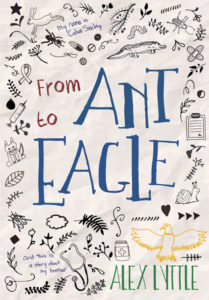 When Calvin's family moves from the city to the countryside, he's stuck with no one to play with except his younger brother Sammy. Sammy sticks to Cal like glue, always bugging him to read a book or play a game. So Cal invents a game with levels. Sammy has to perform certain tasks to level up, and the tasks always take him a long time, giving Cal the break he's looking for.
When Aleta moves to town Cal finds the friend he's been looking for, and the two of them start to spend more and more time together without Sammy. But when Sammy gets sick, Cal realizes how much his brother means to him and how much he stands to lose if Sammy doesn't get better.
From Ant to Eagle by Alex Lyttle looks at childhood cancer from the viewpoint of a sibling. Through Cal's eyes readers are able to see how the disease affects the whole family in devastating ways. What would have been normal sibling frustrations, an older brother having to entertain a younger brother and chafing at the restrictions that inevitably brings, become a source of guilt in the face of illness. Stressed parents argue when they take different approaches to coping.
From Ant to Eagle is not an easy book to read, but it is an important one. Anyone who knows someone experiencing illness will find it a guide to how to help, but it's also good for anyone who just seeks to understand the human condition. The author is a pediatrician who works in Pediatric Oncology, and his insights gained from experience add meaning to the story.
While the subject mater is not happy, it's also not overly emotionally wrought. Instead, the story is told with honesty and genuine emotion in a way that touches the heart and makes readers think while addressing the subject in a straightforward way.
I recommend From Ant to Eagle for readers aged 12 and up.
The publisher provided me with a copy of this book in exchange for my honest review.
Save