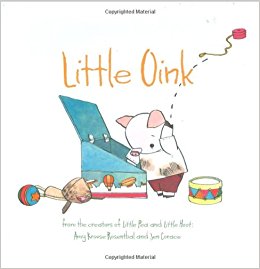 Amy Krouse Rosenthal's Little Oink turns the concept of keeping a clean room and being neat and tidy upside down. Little Oink likes being clean, but his parents tell him pigs are supposed to be dirty. They scold him if he doesn't have enough dirt on his clothes.
But the little pig is happy being clean. He digs for truffles in the dirt with a trowel, not his hooves. And when his classmates happily grub at a trough during school lunches, Little Oink wears a bib and eats with a knife and fork.
Toddlers and preschoolers ages 2 to 4, who are at an age when they are likely to be told to clean up after themselves, will find lots to giggle over in this funny role reversal. Jen Corace's illustrations are simple and sweet, just right for a cute story that youngsters will beg parents to read to them over and over again.
The publisher provided me with a copy of this book in exchange for my honest review.
Save
Save