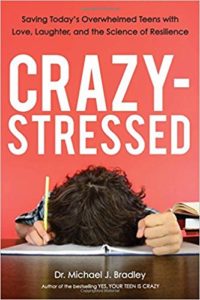 If parents believe their teens face more stressors than the previous generation, Dr. Michael J. Bradley wants to let them know they are right. With the proliferation of social media, increased screen time, pressure to perform in school and more, kids are challenged by a growing list of outside forces that can trip them up and make them difficult to parent.
A psychologist who counsels kids and their parents, Bradley has written a guide called Crazy-Stressed: Saving Today's Overwhelmed Teens With Love, Laughter, and the Science of Resilience. Bradley starts off by defining the kinds of things kids are facing these days as a way to inform parents that they can't make assumptions about teen lives based on their own experience of growing up.
Through stories gleaned from his professional experience as well as personal stories from raising his own children, Bradley presents the case for teaching teens how to be resilient so they can learn how to get through the issues they face as they mature into adulthood. Parents can provide love and guidance, but Bradley says they must realize they can't protect their kids from every stressful or dangerous situation they will encounter. Kids are more likely to make it through the teen years to become successful adults if they learn skills to communicate, take ownership of their decisions, and bounce back from mistakes they will inevitably make.
Throughout Crazy-Stressed Bradley's tone is light and humorous, which makes it easier for parents to absorb the points he makes. His personal stories from his own parenting make him relatable, so parents shouldn't feel he's imparting unrealistic advice. Rather, his own stories show that parents can make mistakes as they act in ways they think is right for their children and still learn how to do a better job in the future.
Different sections outline the issues facing teens, show parents how to react in stressful situations, and provide guidelines for staying connected with teens as they mature. It's a guide that parents will want to consult again and again for a refresher on ideas to handle new issues throughout their children's teen years.
The publisher provided me with a copy of this book in exchange for my honest review.