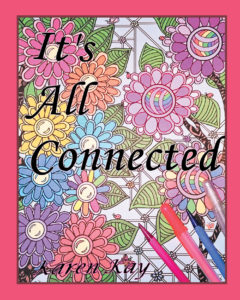 Fans of adult coloring books will be interested in It's All Connected by Karen Kay. Nearly 50 hand-drawn illustrations fill one-sided pages. With no colors to bleed from front to back, you can frame your favorite pages after you add the color.
The author says she has included "little quirks" that she challenges colorists to find in each illustration. As colors reveal the patterns more richly, little details become more visible
I liked that the illustrations are all flower-like or snowflake-like, but none are easily identifiable as a specific thing. This makes it easier to choose colors that you want to put together instead of ones you think ought to be applied to a certain object. It's All Connected should provide hours of relaxing fun.
The publisher provided me with a copy of this book in exchange for my honest review.
Save