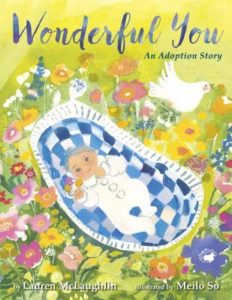 "In a faraway land lived a lady in blue with a babe in her tummy named Wonderful You." So starts Lauren McLaughlin's adoption story picture book called Wonderful You. The story goes on to describe how the woman in blue searched far and wide to find a home for her baby that was loving and kind. The parents are overjoyed to be chosen, telling the baby "We already love you. We promise we're ready."
Meilo So's illustrations have a fairy-tale quality, with characters depicted as floating in place, and riding on the moon and the wings of a bird. Scenes include rainbows and snowflakes, fields of flowers and clouds. They create a beautiful setting for a loving story parents can read to their adopted child.
The author's note at the beginning recognizes that "every adoption story is different, but many of them share one thing—a sense of destiny." Parents should enjoy talking about the details of adopting their own child as they read along. I recommend Wonderful You for read-aloud time for ages 3 to 7.
The author provided me with a copy of this book in exchange for my honest review.
Save