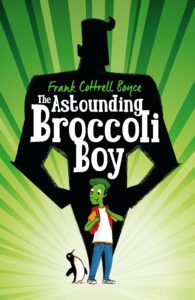 When Rory Rooney's skin turns green on a field trip he lands in the isolation ward of a hospital in London, where the doctor wants to test and observe him to see if he's contagious. Rory is shocked to see that the only other person in the ward is Tommy-Lee, his long-time bully. But once Rory realizes that Tommy-Lee can sleepwalk past the locked doors, he discovers his own explanation for the reason the two of them have changed skin tone: they are now superheroes, able to teleport, map out the city, and go into the world to do good. But the world at large is not quite ready to look at their daring actions in quite the same way.
The Astounding Broccoli Boy by Frank Cottrell Boyce gives voice to the bullied, the bullies, and those who are powerless to make themselves heard. When Rory tries to talk to his parents, his teachers, and his schoolmates about being bullied, they generally ignore him or blame him, and he realizes he's on his own in dealing with it. Once he turns green Rory can't even control where he lives or who is allowed to see him. It's no wonder he gravitates to stories about superheroes, especially those who started out as ordinary humans and gained power through some outside force, aka Spiderman, to fight evil.
Locked up with his nemesis, Rory slowly comes to understand Tommy-Lee and the troubles he faces of his own. And while the two become friends of a sort, Rory is under no delusion that under the right circumstances Tommy-Lee will lash out at him again.
The Astounding Broccoli Boy is a classic Frank Cottrell Boyce tale about young people facing difficult situations and struggling to figure out the world around them and their place in it. They make innocent, uninformed mistakes, come to incomplete laugh-out-loud conclusions, and in the end, come away with a better understanding of each other and the people they interact with daily. I recommend it for readers aged 9 and up.
I checked out a copy of this book from the library and have provided an honest review.
Save
Save