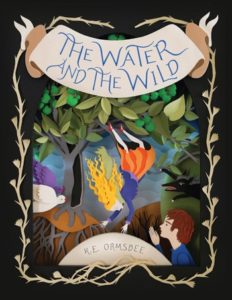 Lottie Fiske is an orphan, and her only friend is Eliot, who is sick with a disease the doctors cannot cure. But when she finds out how to travel to another world through the green apple tree in her hometown, she finds a doctor who may be able to save Eliot. She also learns of her own family, her mother and father who defied the restrictions of two worlds and paid a price. To save her friend, Lottie must confront a corrupt king and draw on the secret power she never knew she had.
The Water and the Wild by K. E. Ormsbee is a fantasy tale about one girl's journey to discover who she is. Lottie's adventure in another world is reminiscent of other children's fantasy classics, like the Chronicles of Narnia and the Wizard of Oz books. The world Lottie falls into, New Albion, is full of strange creatures and odd terrain. But the people are like people everywhere. They want to protect those they love, they fight wars and long for peace, they battle sickness, and they search for allies.
The Water and the Wild is fun to read, and as the first in a series, readers can pick up Lottie's story in the sequel, The Doorway and the Deep. I recommend it for readers aged 9 to 13 and their parents.
The publisher provided me with a copy of this book in exchange for my honest review.