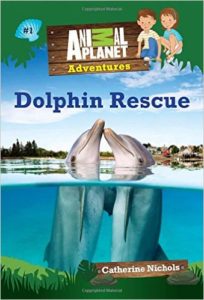 Maddie and Atticus live with their dad in a small town on the New England coast. Maddie volunteers with the local aquarium, and she's learned a lot about sea life there. The siblings are presented with the mystery of who has been pushing over garbage cans and scattering trash all around town. Together, they work to solve the problem, and they also find a way to save a baby dolphin caught in ocean garbage.
Their story is told in Dolphin Rescue, the first book in the Animal Planet Adventures series. Geared towards early and reluctant readers, Animal Planet Adventures books tell a good story while also providing lots of sidebars with facts about a certain topic. In Dolphin Rescue, young readers learn about animals that live on or near the beach, aquariums, the importance of keeping beaches clean of trash, dolphins, and more. It's an interesting combination of fiction and nonfiction that is likely to appeal to young readers who say they prefer one or the other.
Illustrations and photographs are plentiful, encouraging kids to linger over the pages as they read. And the story is just right for sensitive young readers aged 6 to 10, who may appreciate more fun than scariness in their mysteries.
The publisher provided me with a copy of this book in exchange for my honest review.