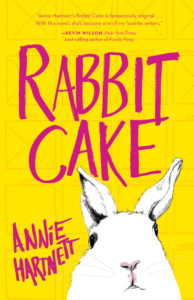 Elvis Babbitt has a head for science, but that doesn't help her figure out how to navigate the world in the days after her mother drowned while sleepwalking. Her school counselor encourages her to go through the stages of grief, and expect them to take 18 months. Meanwhile, she worries that her older sister, a sleepwalker too, will poison herself while sleepeating. And that her dad, who wears her mom's robe and lipstick to help his own grief, doesn't know how to help his daughters deal with theirs.
Annie Hartnett's Rabbit Cake is at times funny, heartbreaking, poignant, and hopeful. Elvis is both innocent and wise, and her observations of her family and herself are insightful and sometimes surprising. Her life is full of complexities, including concerns about mental illness in her sister, worries about her dad, and questions about her mother's death. A hodgepodge of minor characters, like her school counselor and a girl in therapy with her sister, shows how everyone we interact with has the potential to profoundly impact our lives.
Elvis seeks answers from those she interacts with the most and discovers in the process that everyone she knows is dealing with their own brand of heartbreak, even if it doesn't show on the surface. As told in her voice, Rabbit Cake is a touching story about family, love, innocence and loss that will stay with you long after you turn the last page.
The publisher provided me with a copy of this book in exchange for my honest review.
Save