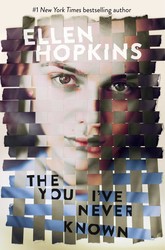 As far back as she can remember, Ariel has been on the move with her dad, putting space between the two of them and the mother who abandoned her to run off with another woman. Every time Ariel thinks she and her dad will settle for a while, he picks up and leaves again. But now that she's 17 and a senior in high school, Ariel decides she wants to put down roots, and she likes the place she lives. She meets Gabe, and is attracted to him, but she also thinks she may be falling in love with her best friend, Monica. It's a confusing, emotional time, and Ariel doesn't want to move before she figures out how she really feels.
When she discovers that her dad may have been lying to her, and that her mother didn't abandon her years ago, she must confront the facts and decide how to live going forward, with or without her dad.
The You I've Never Known by Ellen Klages takes readers deep inside the lives of two women impacted by the same controlling man: Ariel and her mother Maya. Told in alternating style, with Ariel's story in verse and Maya's in prose, the story unfolds gently as it reveals the turmoil each feels given the facts of their circumstances.
Much of Maya's story is told in the past, when she is a teen like Ariel. Both of their stories show them dealing with difficult family situations and trying to decide what is important in their lives. And as with her other novels, Hopkins doesn't shy from portraying relatable, imperfect characters facing difficult decisions. The You I've Never Known will keep readers aged 14 and up eagerly turning pages right up to the end.
The publisher provided me with a copy of this book in exchange for my honest review.