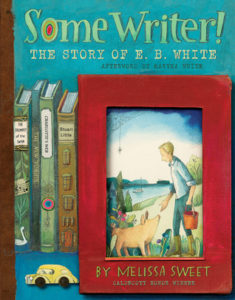 Some Writer! The Story of E. B. White by Melissa Sweet clues young readers in on the life of Elwyn Brooks White, the beloved writer of Charlotte's Web, Stuart Little, and The Trumpet of the Swan.
Born in 1899, near New York City, White loved spending summers with his family on a lake in Maine. Later, he bought a home near the same place he stayed as a child. His time on the farm helped him get familiar with the animals that lived there and inspired his writing for children, especially Charlotte's Web.
Sweet's biography uses excerpts from White's letters and manuscripts interwoven with facts, photos, and collage to paint a picture of the author as a quiet person who started writing when he was young. He didn't like attention, he loved his family, and he had a knack for writing stories that appealed to both children and adults.
Some Writer! is for anyone who loves White's books and want to know more about him and his life. I recommend it for mother-daughter book clubs with girls aged 9 to 13.
I got a copy of this book from the library to review.