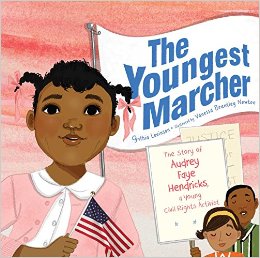 Audrey Faye Hendricks was the youngest known child to be arrested during a civil rights protest in Birmingham, Alabama. Her story is told in a picture book, The Youngest Marcher: The Story of Audrey Faye Hendricks, a Young Civil Rights Activist, by Cynthia Levinson.
The year was 1963, when Audrey was nine. She had heard her parents and other grownups talk about the unfairness of racial segregation and ask for people to protest. Understandably, many people were afraid of being hurt and arrested and didn't want to put their families at risk.
When Dr. Martin Luther King, Jr. asked children to march, Audrey volunteered right away. She was arrested and spent one frightening week in juvenile hall. Others, mostly teens in high school, joined her over the week until the cells were full. Two months after her ordeal, Birmingham erased its segregation laws.
Today it's hard to imagine the time when blacks weren't allowed to drink from the same water fountains as whites, couldn't sit in the same sections of restaurants, use the same elevators, or sit downstairs at a movie theater. It's also hard to imagine the courage of a nine year old protesting when she knew she would be arrested, or that her parents allowed her to take action. Which is why picture books about children like Audrey are so important. They let young readers know that even children like them can make a difference when they stand up for something they know to be right.
Vanessa Brantley Newton's illustrations show Audrey as she was, a young, curious, happy child with a determination to change things she knew to be wrong. An author's note about Audrey's time in jail and The Children's March followed by a timeline of other events puts Audrey's actions in historical perspective. Hers is an inspirational story with a message to resonate through the ages.
The publisher provided me with a copy of this book in exchange for my honest review.
Save
Save
Save