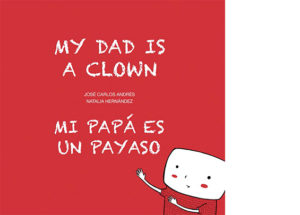 Clowns sometimes get a bad rap, portrayed as frightening or creepy. But in My Dad is a Clown, a picture book by José Carlos Andrés, young readers get an idea of what it means to be a clown. The story is told by a young boy. Here's how it begins:
"The other day at school, a classmate got angry at me and said, 'Clown!'
I thanked him and gave him a kiss. He didn't understand, but we became friends again.
My dad is a clown and I am very proud of him and his job, which is one of the most important jobs. Imagine how important it is. He makes people laugh."
The boy has another dad named Pascual, who is a doctor. Pascual says the two men have two of the most important professions. One heals the body and the other heals the soul. But My Dad is a Clown also shows how much work it takes to be funny and make people laugh. It's a tender look at a job most people give little thought to.
Quirky illustrations by Natalia Hernández are in black, white, and red. The story is also told in Spanish, making this book great for readers learning either English or Spanish.
The publisher provided me with a copy of this book in exchange for my honest review.