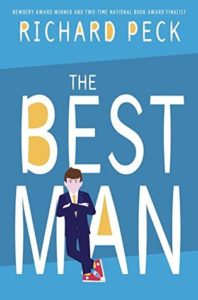 Richard Peck is a master at creating captivating young characters learning life lessons from the adults around them. He has another winner in The Best Man. With characteristic wit and humor, Peck has given readers another character to love, Archer Magill, a young boy who learns from his friends and family as he figures out what it means to grow up.
From Lynette, Archer learns about sticking with your friends even when it's not cool. From Mr. McLeod, a student teacher, he learns how to stand up to bullies. From his grandpa and his dad, he learns to take pride in the things you build. And from his uncle Paul he learns that sometimes you have to break the rules to do what's right. Ultimately, he finds that when you are true to yourself you can follow the right course for your life, even when that course riles some people up.
Issues to discuss in mother-daughter book clubs include bullying, human sexuality, old age and dying, and family relationships. I recommend it for groups with girls aged 10 to 13.
I checked out a copy of this book to read and give my honest review.
Save
Save