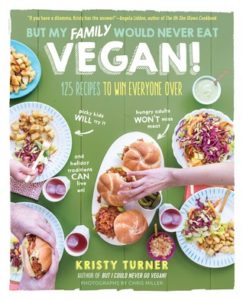 Even in a time when finding tasty dishes for vegans is getting easier, it can still be a challenge to convince family members to embrace vegan foods. Usually, meat eaters or even vegetarians are more focused on what they have to lose by eating vegan than what they have to gain.
Keepin' It Kind blogger Kristy Turner has dedicated considerable effort to help change that attitude, both with her first book, But I Could Never Go Vegan!, and with her newest effort, But My Family Would Never Eat Vegan! Subtitled, 125 Recipes to Win Everyone Over, this newest book aims at overcoming common objections, such as, "My kids think vegan food is weird," and "Uncle John thinks his comfort food is better than mine…and won't shut up about it."
Organizing recipes into chapters with titles like these makes it easy for home chefs to find categories when cooking for different groups of people. While my family is decidedly omnivores, we have recently become committed to go meatless, and even vegan, for one or more meals per week. I have turned to this cookbook for inspiration on everything from main dishes, to side dishes, to snacks and even desserts. On the dessert front, one of the recipes I can share from the book, Peanut Butter Oatmeal Cookies, was a hit with my family when I tried it (see instructions below).
But My Family Would Never Eat Vegan! is a great addition to any home kitchen. It provides easy instructions and inspiration while addressing objections to vegan dishes in a simple manner. Recipes are also labeled gluten-free, nut-free, and soy-free to help cooks plan for food allergies and sensitivities.
The publisher provided me with a copy of this book in exchange for my honest review.
Peanut Butter Oatmeal Cookies
From But My Family Would Never Eat Vegan! By Kristy Turner
Makes 30 Cookies
Who doesn't love a hearty, chewy, peanut-buttery oatmeal cookie, crammed with all sorts of tasty add-ins? Nobody. That's why these cookies are bound to be a hit with everyone in the family. Peanut butter (or the nut or seed butter of your choice) works together with applesauce and coconut oil to replace eggs and butter, making a remarkably flavorful binder that builds perfectly soft and chewy cookies. You can make them as is, or add chocolate chips, raisins, nuts, or all of the above. I mean, really, who's not going to like this cookie?
Prep Time: 10 minutes
Active Time: 20 minutes
Inactive Time: 10 minutes
Ingredients
1 cup unbleached all-purpose flour (or gluten-free flour blend, soy-free if necessary)
1 cup rolled oats (certified gluten-free if necessary)
1 teaspoon baking soda
1 teaspoon ground cinnamon
½ teaspoon salt
½ teaspoon xanthan gum (exclude if using all-purpose flour or if your gluten-free blend includes it)
¼ teaspoon ground nutmeg
1 cup unsalted, unsweetened natural peanut butter
½ cup maple syrup
1/3 cup unsweetened applesauce (or mashed banana)
¼ cup coconut oil, melted
1 teaspoon vanilla extract
Optional add-ins: ½ cup raisins, chopped peanuts, and/or vegan chocolate chips
Instructions
Preheat the oven to 350 degrees F (180 degrees C). Line two baking sheets with parchment paper or silicone baking mats.
In a large bowl, whisk together the flour, oats, baking soda, cinnamon, salt, xanthan gum (if using), and nutmeg until fully incorporated.
In a medium bowl, combine the peanut butter, maple syrup, applesauce, coconut oil, coconut sugar (if using), and vanilla. Stir until combined.
Add the wet ingredients to the dry ingredients and stir until combined. If you're using add-ins, fold them in.
Scoop a heaping tablespoon of dough out of the bowl, roll it in your hands to make a perfect ball, and place it on the baking sheet. Repeat with the remaining dough, spacing the balls 1-1/2 inches apart. Use your fingers to gently flatten each ball just a bit.
Bake for 10 to 12 minutes, until firm and slightly golden along the bottom. Let the cookies cool on the baking sheets for about 5 minutes before transferring them to a cooling rack. Cool completely before serving. The cookies will keep stored in an airtight container (in the fridge if the weather is warm) for 3 to 4 days.
Save