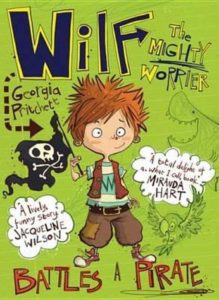 Wilf, everybody's favorite worrier, is back after having saved the world from destruction by his evil neighbor Alan. This time Alan has another evil plan to destroy the world, and Wilf has to stop him. But first he must overcome all the things he worries about, like garden gnomes and giant squids and dark caves that could have bears and bats and scorpions.
Wilf the Mighty Worrier Battles a Pirate by Georgia Pritchett sees Wilf on Alan's pirate ship, sailing into unknown lands as he tries to stop Alan and get his sister's sand bucket and shovel back. Techniques used throughout the book, like narration that speaks directly to the reader, words in bold, large type, and quirky illustrations are sure to appeal to readers aged 8 to 11. Once again, Wilf shines as a champion of worriers everywhere.
The publisher provided me with a copy of this book in exchange for my honest review.