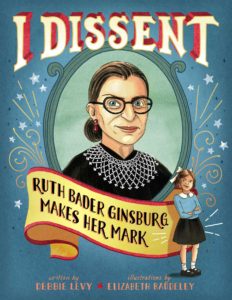 Justice Ruth Bader Ginsburg has become such an icon on the Supreme Court that she is now the subject of a picture book for young readers. I Dissent: Ruth Bader Ginsburg Makes Her Mark was written by Debbie Levy, and it looks at some of the early events that helped form young Ruth's sense of justice.
That sense was formed in part by her trips outside of her Brooklyn neighborhood into small towns, where she saw signs on businesses saying Jews, Mexicans and colored people weren't allowed. She also grew up at a time when girls were expect to grow up, get married, have kids, and take care of their homes. But her mom told her that girls could do more, and she took her to the library where she could read about women who went beyond the expected.
Over the years, Ruth dissented against the norm to get into college, go to law school, and get hired as a lawyer. She became a judge, then was appointed the first female Jewish member of the Supreme Court, where she has ruled on the side of equality for women and minorities.
Looking at the things Justice Ginsburg has objected to throughout her life is an interesting way to get across what she stands for. The illustrations show her growing from a determined young girl to a steely eyed member of our country's highest court.
Those wanting more information will be happy there are two pages in the back of the book giving more information about milestones in her life as well as notes on Supreme Court cases and a selected bibliography. Ginsburg's story is an inspiration to girls. Parents may also want to check out her own words about raising trail-blazing daughters in this story for Inc.
The publisher provided me with a copy of this book in exchange for my honest review.
Save
Save