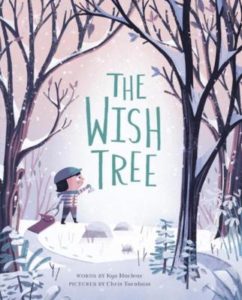 One day a boy named Charles sets off with his sled named Boggan to find a wish tree. His sister and brother say there's no such thing, but he's certain it exists.
As Charles sets off on his adventure he sings a little song and Boggan sings his own song while swishing through the snow. Together they search up on the top of a hill, through the forest, over a pond, and all through a meadow before they find what they are looking for. Along the way they meet and help out lots of animals that live in the wilds, and the animals return the favor by helping Charles.
The Wish Tree with words by Kyo Maclear and illustrations by Chris Turnham is a sweet tale about a boy who follows his heart and ends up getting so much more than he set out to. As Charles searches far and wide, his good nature leads him to notice the creatures he encounters and use his trusty toboggan to help them out.
Illustrations are muted, reflecting the warm and cool colors of winter. Bare tree branches and fields of snow are punctuated with pops of red, representing Boggan, squirrels, berries and a fox. The atmosphere seems to have a warm glow of cozy winter times. It's perfect for cuddling up to read with your three to six year old.
The publisher provided me with a copy of this book in exchange for my honest review.
Save