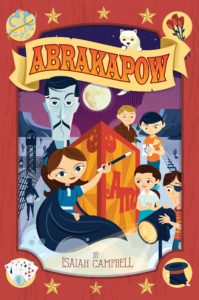 What happens when you take a true story of German prisoners held at a camp in Texas in 1944 and add in an 11-year-old girl magician? The result is Abrakapow, a wholly entertaining novel for young readers by Isaiah Campbell.
The story centers around The Amazing Max, a girl who moves with her mom from New York City to Abilene, Texas, to be near Max's dad, who is in charge of the prisoner of war camp. With World War II being fought against Hitler and the Nazis, anti-German sentiment is high. Still, Max develops a friendship with one of the prisoners when she finds out he knows magic and he can help her with an upcoming performance.
While Abrakapow takes place more than 70 years ago, the issues Max deals with are sure to resonate with young readers of today. These include making friends in a new place, being able to see people for who they are instead of who you expect them to be, being honest with family and friends, taking risks for what you believe is right, confronting racism, and more.
As historical fiction, Abrakapow presents Jewish characters and those of Japanese heritage in the negative ways they were sometimes viewed at the time. This lets young readers consider their own views and recognize the differences between those days and now. It also shows differences in the way parents and teachers acted toward children. All the issues are likely to create great discussions in mother-daughter book clubs with girls aged 9 to 12.
In addition, the book is just plain fun. Max is a sympathetic character with a pet ferret and a desire for the spotlight. Instructions for completing some of her magic tricks end several chapters in the book. All in all, Abrakapow blends historical fact with relatable characters while creating a story that is sure to entertain and provoke thought. It's hard to ask for more.
The publisher provided me with a copy of this book in exchange for my honest review.
Save