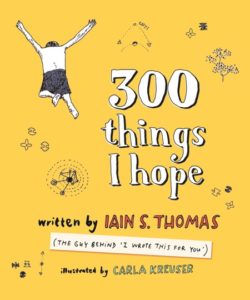 "I hope you are touched by the smallest gesture of friendship."
"I hope it feels like your muscles are singing when you exercise."
"I hope you learn the difference between the easy thing, the hard thing, the smart thing and the right thing."
These are just a few of the things Iain S. Thomas includes in his book, 300 Things I Hope. Many are thoughtful, like the ones above. Some are whimsical and fun, like, "I hope you cover something in stickers." Some are kind of silly, like, "I hope you get to meet aliens or your favorite band."
But all of the things that Thomas hopes are thought provoking. Some are sure to bring a smile to your face, others may prompt you to look at life and the people you encounter differently. Carla Kreuser's black and white line drawings are sometimes spare, sometimes bold, depending on the hope illustrated.
This little gem of a book can be read one page at a time in sequential order or opened at random to provide food for thought. It would make a great gift on a special occasion.
The publisher provided me with a copy of this book in exchange for my honest review.
Save