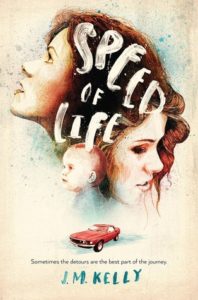 When baby Natalie was born out of wedlock, twins Crystal and Amber vowed they were in it together, just as they had been their whole lives. They would raise her together and move out on their own after they graduated from high school. Teen pregnancies are common in their family (their own mom was a teen when they were born), and they are saving every penny from their jobs to help with their plan. When Crystal grasps that college could be part of that plan, she starts to think of their future in different terms. Amber, however, doesn't see things the same way.
Speed of Life by J. M. Kelly is a story for anyone who has hoped to change her life for the better. It recognizes that success comes in many forms, not just with a college degree, but also that teens don't have to be defined by family expectations (or lack of them) just because everyone else has acted a certain way in the past.
Amber and Crystal may look alike, but their dreams for the future are different. Coming to the realization that that's okay, and they can both achieve what they want, is the hard part. Speed of Life provides insight to the emotional, physical, and monetary challenges teens face when overcoming personal circumstances to succeed. It's an inspiring story great for mother-daughter book clubs and readers aged 14 and up.
The publisher provided me with a copy of this book in exchange for my honest review.
Save