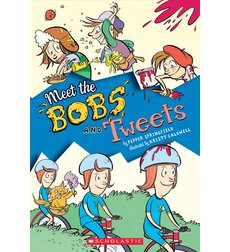 The Bobs are a family of slobs (except one), the Tweets are all neat (except one). When a real estate agent sells them houses across the street from each other, it's just a matter of time before the two families clash. It's up to the two littlest ones to find a way to calm the conflict.
Meet the Bobs and Tweets by Pepper Springfield is a fun book about two families with extreme habits. Rhyming verses will remind readers of Dr. Seuss, and they are great for reading out loud. Here's an example from chapter 1, which starts like this:
A mob of Bobs lives like slobs.
A mob!
Of Bobs!
Oh, such slobs.
The comparisons between the two families are silly and fun, with one side happily running wild and the other getting pleasure from tidying up. The two misfits love their families even though they don't fit in. But that's exactly why they can help the two sides learn how to get along. It's a great message for younger kids about respecting traits unlike yours in other people.
Illustrations by Kristy Caldwell are vibrant and whimsical. This book is sure to be a hit with readers aged 4 to 8 and their parents.
The publisher provided me with a copy of this book in exchange for my honest review.
Save