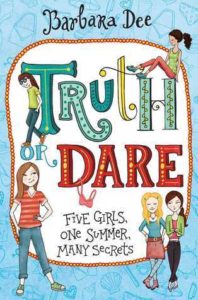 Lia counts on her four best friends to be there for her, just like they were after her mom died. But those relationships start to show cracks in the summer before eighth grade, and the divide gets even rougher once school starts. When a game of truth or dare takes a turn toward the mean, Lia feels as though she is losing the people she cares about the most. With the help of her "weird aunt," she just may be able to patch up the cracks and be happy again.
Truth or Dare by Barbara Dee brings up a lot of issues from a confusing time in life. Lia is a late bloomer while all her friends are getting bras and their periods. She lies about her development so she won't feel left out. Her mom is gone and she doesn't want to talk to her dad about what's happening (or not) with her body. She wants to talk to her aunt, but her mom's sister is so different from her mom that she doesn't easily connect with her either. On top of everything else, Lia also doesn't know how to stand up for herself when one of her friends starts to bully others in the group.
All these situations should open up a conversation between moms and daughters about puberty, bullying, dynamics within a group of friends, learning how to be true to yourself, and others. I recommend Truth or Dare for book clubs with girls aged 9 to 12.
The author provided me with a copy of this book in exchange for my honest review.
Save