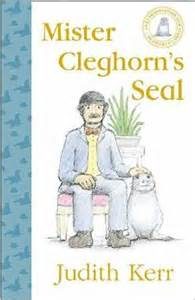 Mr. Cleghorn has a problem. Since he sold his business and retired, he misses being around all the people who came to his shop. He decides to take a trip to the seashore to visit his cousin, and while there he finds joy in going out in a boat to see a baby seal. But when the seal's mother doesn't return one day, Mr. Cleghorn knows he has to save the pup. Trouble is, he doesn't know what baby seals eat, and he lives in a building that doesn't take pets. What will he do?
Mr. Cleghorn's Seal by Judith Kerr is a gently unfolding tale about a kind man and his desire to do the right thing. His commitment takes him on an unexpected journey that helps him make a new friend and changes the course of his life. It's a sweet tale based on the barest of a true story, as the author's father once kept a baby seal whose mother had died.
Readers as young as five or six will appreciate having the story read to them, and children up to age 10 or 11 will enjoy reading it on their own. This small book has a big heart, and readers are sure to be touched by Mr. Cleghorn's defense of the defenseless even when he isn't sure where his next step will take him. I highly recommend it for mother-daughter book clubs and readers of all types.
The publisher provided me with a copy of this book in exchange for my honest review.
Save