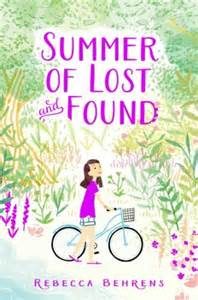 Nell's summer is all planned out to spend at a tennis camp with her best friend. But then her dad goes away and she has to leave for North Carolina, where her botanist mother has a temporary research job. While Nell worries that her parents may be about to separate, she gets drawn into a centuries old mystery about what happened to the Lost Colony on Roanoke. Together with Ambrose, a strange boy she believes is a historical re-enactor, she searches for clues the colonists may have left behind.
Summer of Lost and Found by Rebecca Behrens touches on lots of issues as it takes readers on a journey of historical discovery. Nell faces several friendship concerns. She's worried that her best friend back home is replacing her with a new friend while she's gone. She resists making friends with a local girl her age in North Carolina, who she withholds information from and competes with in finding clues. Ambrose is her friend, but he sometimes acts strangely and seems to be harboring a secret. Nell's worries about her parents lead her to engage in risky behavior in order to bring them together. It's an interesting weave of problems juxtaposed with the mystery.
Summer of Lost and Found is a great book for mother-daughter book clubs with girls aged 9 to 12, and a great book for any young reader to pick up at the beginning of summer. It may just inspire them to look around their own hometowns for mysteries to look into.
The publisher provided me with a copy of this book in exchange for my honest review.