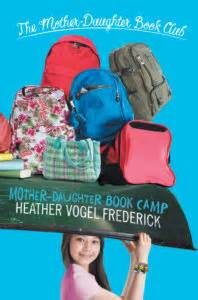 Everybody's favorite mother-daughter book club girls, Emma, Jess, Megan, Cassidy and Becca, are all grown up and graduated from high school. But they get to have one more adventure together before they all go to college in the fall when they sign up to be counselors at Camp Lovejoy.
The girls have come so far from the days when readers first met them and they were forced into being in a mother-daughter book club together with their moms. They reminisce about those days and the good and bad times they shared in previous books, when each girl faced challenging times. Even Becca recognizes how she's matured, and why she wasn't part of the group at first.
In Mother-Daughter Book Camp, the last book of Heather Vogel Frederick's The Mother-Daughter Book Club series, the girls take on the challenge of ushering young campers through six weeks of summer camp. When confronted with tears and homesickness, they turn to what they know to be comforting: books! They start their own book club with the campers, reading Understood Betsy, a classic from 1916 by Dorothy Canfield Fisher. The girls are each dealing with personal challenges as well, and they help each other out along the way.
Of course, since it's camp, there are lots of fun times too, and the girls all lead activities that play to their strengths. It's a fitting send off to characters and a series so many readers have come to know and love over the years. I am sure I'm not alone in saying I'll miss knowing what the girls are up to as well as what they have chosen to read in their group.
High school graduation and the summer before college is such a time for nostalgia and wishful thinking in general, and Mother-Daughter Book Camp lets readers revel in it. It's fun to think of each character going off to make her future happen, even though we'll be the ones imagining what those futures will be.
The publisher provided me with a copy of this book in exchange for my honest review.
Save