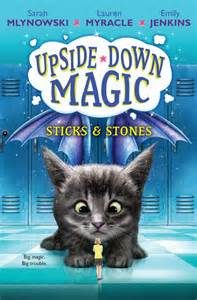 Nory has trouble controlling her magic. She can transform into a kitten, but she can't hold the shape, so she ends up with the head of a goat, which makes her a koat. What she has is called upside down magic, and along with a few other kids who are struggling to control their own powers, she's in a special class at Dunwiddle Magic School. But when strange things start happening in the halls, the other kids want to blame the students in her class and get them kicked out of the school forever. If Nory could find out what's really causing the strange occurrences, she might find a way to help her group fit in.
Upside Down Magic: Sticks & Stones is the second in the series by Sarah Mlynowski, Lauren Myracle, and Emily Jenkins. The action is fun and funny, but it also addresses some serious issues that can help young readers get insight into what it's like to be different from your peers. With the advice of her teacher/tutor, Nory signs up for a sport. And even though she's not great at it, she meets other kids outside of class. They all benefit when they get to know each other and can see each other as people instead of stereotypes.
Anyone who has ever felt the awkwardness of being different (pretty much anyone at one time or another) is sure to enjoy Upside Down Magic. I recommend it for readers aged 9 to 12 (and their moms).
The publisher provided me with a copy of this book in exchange for my honest review.