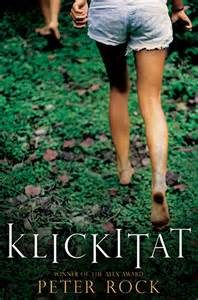 Dark and foreboding, Klickitat is told through the eyes of Vivian, a teen whose family is stressed by her older sister's (Audra) rebellion and Vivian's unnamed mental malady that causes her to retreat far within herself when she is stressed.
As the action escalates, Audra talks of living in the wilderness on her own, with a boy she met who will show her how. Audra runs away, then comes back to take Vivian with her. The three teens find a clandestine spot to hide until they can strike out on their own, but obstacles crop up that keep them in the city, building to a terrible conclusion.
Klickitat brings up life-questioning issues many teens grapple with — rejection of their parents' lifestyles and values, and uncertainty about their own looming adulthood and plans for the future — at a time when they are establishing their core personalities and values.
It's a confusing time, and Vivian's mental condition adds to the confusion. As her situation falls apart, readers are likely to question her reliability as a narrator. Is her version of reality true or simply true to her? I would have preferred more clues along the way and a bit more revelation at the end. Even so, I believe the story is likely to resonate with readers and stay with them long after they turn the last page.
If the word Klickitat seems familiar, that's because it's the name of the street Ramona Quimby grew up on, in the series of books for young readers by Beverly Cleary. Rock's novel is set in the same neighborhood, but that's the only similarity between Cleary's stories and this book, which is geared to readers aged 15 and up.
The publisher provided me with a copy of this book in exchange for my honest review.
Save