Normally, I don't review the ninth book in a series without having covered at least the first title and a few others. But I just discovered the Whatever After series with Genie in a Bottle, and I think the whole lineup is appealing to readers aged 8 to 11 and their moms. I also think readers can jump in anywhere and either read from book one or pick any other title that appeals and move from book to book randomly.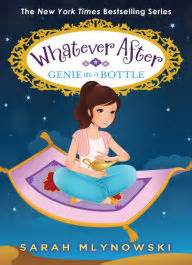 The series follows Abby and her brother Jonah, as they enter a fairy tale world through a magic mirror in their basement. They never know beforehand which fairy tale they'll be part of, but each time they feel they are on a mission to solve a problem.
In Genie in a Bottle, they enter Aladdin's world and know they have to help him meet the princess. But they interfere when they bounce a ball into Aladdin's nose and send him home, which means he misses meeting the magician who wants him to find the magic lamp.
Abby knows the basics of the fairy tale, so she guides her younger brother to help achieve the expected outcome. But they can't resist having some fun along the way. And they get to meet two genies, one who is young woman just coming into her magical powers.
Genie in a Bottle is fun for kids to read because it takes a well-known fairy tale and mixes up some of the story in an interesting way. It also weaves in features of the original tale, which differs from Disney's Aladdin movie. It's a playful take on a standard that kids are sure to love.
Author Mlynowski has said one of the big points she wants to convey in the series is the idea that girls can control their own destinies instead of waiting for someone to come along and save them. She also hopes to inspire young readers to discover the original tales her stories are based on. Whatever After is the kind of series that can hook young readers and keep them turning pages book after book.
The publisher provided me with a copy of this book in exchange for my honest review.