Tomorrow I'm taking part in a blog tour for Gena/Finn, and authors Hannah Moskowitz and Kat Helgeson will give tips about meeting people online safety. Today I'm featuring a review of the book. If you'd like a chance to win a copy, visit the guest post and comment by June 8. You may also be interested in checking out the discussion guide.
Review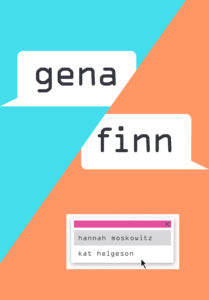 Gena and Finn meet online in a fan fiction forum for their favorite show, Up Below. Soon they are texting, emailing, and talking about things they don't usually share. Gena is apprehensive about graduating high school and entering college. Finn, who is a few years older, is looking for work and unsure about her relationship with her long-time boyfriend. As they meet in person and get to know each other better, they find themselves wondering where their friendship is headed. Then tragedy strikes, exposing their vulnerabilities and dependence on each other.
Readers get to know the main characters in Gena/Finn by Hannah Moskowitz and Kat Helgeson through blog posts, text messages, emails, and journal entries. Each woman's personality is revealed through her own words as well as through what others say to her. Gena's parents are unavailable, off on their own adventures and mostly out of contact. Finn has trouble knowing how she really feels about her boyfriend and telling him how she feels. Both feel the lines of reality blur when they talk about the characters and plot lines of Up Below.
The story looks at a time of life that for many people brings a lot of questions: What do I want my life to be? Is this the best place/person for me? Can I be honest about who I am and still find acceptance from the people who are important to me? When the tragedy occurs, all of those questions are heightened, and finding the answers becomes even more crucial.
Gena/Finn is sure to resonate with young adults and new adults trying to figure out how to navigate relationships and make decisions that will affect their futures.
The publisher provided me with a copy of this book in exchange for my honest review.