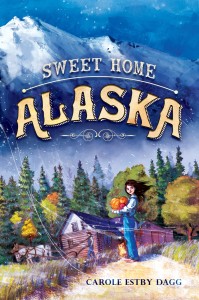 The last thing Terpsichore (pronounced terp-sick-oh-ree) Johnson wants to do is move to Alaska, leaving her best friend and life in Wisconsin behind. But it's the 1930s and times are tough. Her dad lost his job, and he thinks becoming a homesteader will help the family start fresh without having to depend on relatives to take them in.
Palmer, Alaska is not at all what Terpsichore expects. The homesteaders start out in a tent town with no indoor plumbing or electricity, and the workers from the Civilian Conservation Corps make slow progress clearing trees to make way for roads and homes. But she soon makes new friends, and before long she's hoping her family stays for good.
Sweet Home Alaska by Carole Estby Dagg is a winning story with a plucky heroine. Kids in those days had to be creative and self-sufficient to get the things they wanted. For Terpsichore, one of those things is a library, and she uses lots of ingenuity to get one for her community. When she really puts her mind to something, she works hard to see it through.
Young readers aged 9 to 12 (and their moms) will be charmed by this story that is based on the experience of real homesteaders who moved to Alaska. Dagg seamlessly weaves accounts of things that really happened into Terpsichore's story, bringing to life a time and a place that seems more like the U.S. West in the 1800s than the 1930s. Fans of Caddie Woodlawn and the Little House on the Prairie books are sure to fall in love with Terpsichore and her interesting life.
The publisher provided me with a copy of this book in exchange for my honest review.