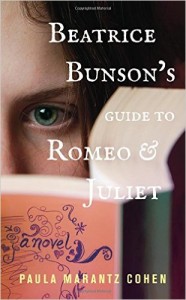 High school starts out rough for Beatrice Bunson. Her best friend lost a lot of weight over the summer and now hangs out with the cool kids. Life at home is chaotic as her older sister fights with her parents. The guy she's had a crush on for forever ignores her in science class.
The only bright spot is English class, where her teacher has assigned Romeo and Juliet. As they go through the text and learn about the motivations behind the characters' actions, Beatrice starts to see a surprising relationship between Shakespeare's tale and the drama all around her. The difference is, she'd like to figure out a way for her friends and family to find a happy ending.
Beatrice Bunson's Guide to Romeo & Juliet by Paula Marantz Cohen is an interesting look at how relationships still play out in many of the same ways that they have for hundreds of years. People get into arguments, teens rebel against rules set down by their parents, friends try out new things and sometimes get into trouble, and even those who are well meaning may not know the best way to take action.
Beatrice learns a lot by finding the parallels between the story she is reading and her own life, and in the process finds a way forward into high school that feels good for her. The story should resonate with readers aged 14 and up.
The publisher provided me with a copy of this book in exchange for my honest review.
Save