T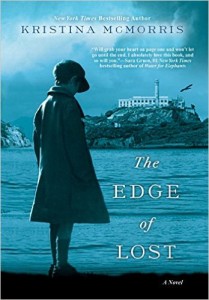 o survive, Shanley Keagan has to put aside his hopes and dreams for a normal life and do what he needs to do to get by. Orphaned at an early age, he is first under the care of a cruel uncle in Dublin. When the chance comes to sail to America he takes it, and begins a fresh life with an Italian family in Brooklyn. But after family strife erupts, he again finds himself alone, relying on his wits and his ability to make an audience laugh so he can get by. When a strange set of circumstances finds him on the wrong side of the law, Shan does what he always done; he keeps his head down and works. But this time, he finds that someone else depends on him doing the right thing.
Kristina McMorris brings a bygone era to life in The Edge of Lost. Beginning when Shan is eleven in 1919, it spans historic events in the Roaring Twenties and The Great Depression. We meet mobsters, vaudeville performers, FBI agents, and blue collar workers. Together their story is one of a time with great highs and lows, echoing the pace of Shan's life.
The Edge of Lost is one of my favorite kinds of books: Historical fiction that tells the story of regular people caught up in extraordinary times and events. Every time I thought I had Shan's story figured out, it took a different direction. I loved the unpredictability of it, which kept up right until the satisfying end.
The author provided me with a copy of this book in exchange for my honest review.