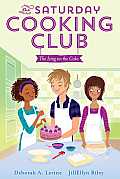 The girls from The Saturday Cooking Club are back with The Icing on the Cake, a new story that has them whipping up sweets in the kitchen and thinking about romance in their lives. Liza would love to see her divorced parents get back together again. And she believes that her thirteenth birthday party, which her Jewish grandma insists on throwing for her in place of a bat mitzvah, is the perfect opportunity. Frankie and Lillian are both attracted to boys in the cooking class, but they're not sure how to tell if the boys like them.
As the girls go through life they learn how to compromise on important issues, speak up for themselves when they need to, and above all, value their friendship.
In their cooking class they learn how to make yummy sweet and savory pies and French-style galettes, cakes, and more. Just reading about the class is enough to inspire you to cook for friends, family, and your book club. Fans of Kitchen Chaos are certain to love The Icing on the Cake. I recommend it for mother-daughter book clubs with girls aged 9 to 12.
The author provided me with a copy of this book in exchange for my honest review.