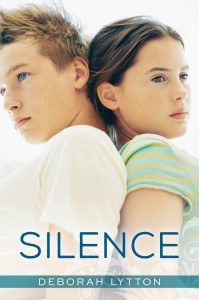 When a freak accident leaves Stella unable to hear it changes everything. She can no longer perform the lead role in her high school's production of West Side Story and her dreams of Broadway fade with her hearing. But her unexpected silence brings unexpected surprises into her life, including Hayden, a boy who stutters and keeps to himself. Hayden harbors a secret about his past, but he puts aside his personal pain to help Stella see that she can thrive in a world without sound.
Silence by Deborah Lytton shows how love and understanding can go a long way in helping people overcome personal tragedy. Stella was already unsure of herself, unsettled after her parents' divorce and her move to a new school. She felt she was just beginning to forge a new path for herself when the accident happened. Abused by his mother, Hayden has a hard time trusting anyone to get close. But as the two learn to trust each other, they also learn to look at others in a different light, allowing them to move forward despite personal pain.
Silence is a good book for mother-daughter book clubs with girls in high school to read. Issues to discuss include personal resiliency, finding joy even while recognizing loss, and the value of slowing down and being patient to achieve happiness.
The author provided me with a copy of this book in exchange for my honest review.