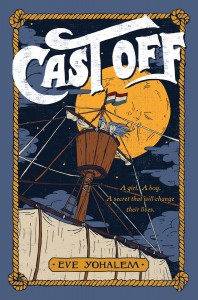 To escape her abusive father, a wealthy Amsterdam merchant, Petra de Winter seeks refuge on a ship setting sail to the East Indies. She fears dire consequences when Bram Broen, the ship's carpenter's son, finds her. Instead, together they come up with a plan that will help Petra escape and Bram find favor with the captain. As they sail they find adventure in fending off pirates, weathering storms, and navigating a mutiny.
Cast Off: The Strange Adventures of Petra de Winter and Bram Broen depicts life on a 17th century Dutch sailing ship in detail while telling a story of friendship and survival. Petra is used to hard work, but life on the ship will test her in new ways. She has to navigate living next to rats, eating meager rations, learning to climb up into the crow's nest, and helping the ship's surgeon tend to the sick and injured—all without giving away that she's a girl.
Bram's father is Dutch but his mother is Javanese, and as a mixed raced child he's not allowed on shore in The Netherlands. With the recommendation of the captain, he may be able to earn the legitimacy he longs for. But talk of mutiny has him questioning whether his loyalties lie with the crew he works with or the captain in charge.
With the challenges they face, the friendship between Petra and Bram soon becomes the only thing they can count on.
Cast Off is a historical adventure that shines light on what life was like for cast offs and misfits in the early 1600s. It was a time when children had few options without the protection of legitimacy and loving parents. The action never stops and it is sure to satisfy adventurous girls and boys aged 10 and up.
The author provided me with a copy of this book in exchange for my honest review.
Save