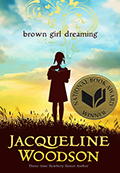 Growing up in the 1960s and 1970s, Jacqueline Woodson's heart lived in two places: South Carolina, where she, her mother, and her siblings lived with her grandparents for several years, and Brooklyn, where she moved when she was still young. She captures her experience of living in both the North and the South in her memoir, Brown Girl Dreaming.
The free verse that Woodson writes is simple but profound in expressing both what happens in the author's family as well as in the wide world around her. She loves her grandparents deeply, and grieves leaving them for New York, where there is opportunity, and the streets are supposed to have diamonds embedded in them. The third of four siblings, she tries to find what she excels at, and what she wants to be known for. She finds power in putting the stories in her mind down on paper.
Brown Girl Dreaming also offers a glimpse into the civil rights movement, and how a young girl perceived it. Despite the demise of Jim Crow laws, her grandparents don't feel comfortable going into restaurants where before only whites were welcome. The North is more open, but prejudices linger. Woodson sees black women fighting for change and it gives her courage to find her own voice.
I highly recommend Brown Girl Dreaming for mother-daughter book clubs with girls aged 9 to 14. The book can spark discussion on the importance of family, religious beliefs, the civil rights movement, and more.
The author provided me with a copy of this book in exchange for my honest review.
Save