I am excited to be participating in a blog tour today for Serafina and the Black Cloak, a great mystery with a little bit of historical fiction added in for readers aged 9 to 12. As part of the tour I have a prize pack with an advanced readers copy, bookmark, stickers, pen, and a notebook to give away. If you'd like to have a chance to win, just leave a comment before midnight (PDT), Wednesday, July 22 about why you like to read mystery books. Please note: The giveaway is closed. Congratulations to Susan on winning.
Here's a bit of info about the author:
Robert Beatty lives in the Blue Ridge Mountains of Asheville, North Carolina with his wife and three daughters, who help create and refine his stories. He loves to explore the grand Biltmore Estate and the darkened forest trails where his novels take place. Robert's Disney Hyperion novel Serafina and the Black Cloak will go on sale July 14, 2015. He writes full-time now, but in his past lives, Robert was one of the early pioneers of cloud computing, the founder/CEO of Plex Systems, the co-founder of Beatty Robotics, and the chairman/CTO of Narrative Magazine. In 2007, he was named an Entrepreneur of the Year. Answering a question about the inspiration for his book, Robert said, "Serafina's journey grew out of my desire to write a story about an unusual and heroic young girl for my three daughters." Visit him on the Web at robert-beatty.com. Also, you may want to check out the book trailer.
Now, here's my review: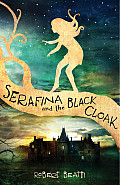 Serafina lives in the basement of the enormous Biltmore estate in North Carolina, where her father tends to the electrical equipment. The castle has lots of places to hide, and Serafina knows all of them. Her dad keeps her a secret, and she knows there's something different about her, but she's not sure what. When Serafina encounters a man in a black cloak who takes children, she decides to come out of the shadows to stop him before he entraps her as well.
Serafina and the Black Cloak by Robert Beatty combines a bit of history, a bit of mystery, and a bit of magic to create a page-turning story for young readers. As Serafina finds out about who she is and where she came from, she finds courage to face a supernatural force. She also finds her first friend in Braeden Vanderbilt, nephew of the owners, who has experienced tragedy of his own.
It's fun for readers to learn details of the famed Biltmore estate and the rural area where it's located. Serafina is courageous, curious, and talented at performing unusual tasks. Her story is sure to appeal to both moms and daughters in mother-daughter book clubs with girls aged 9 to 13.
The publisher provided me with a copy of this book in exchange for my honest review.