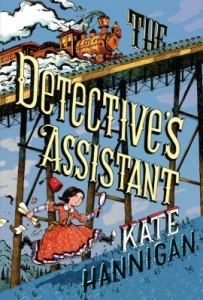 Eleven-year-old Cornelia Warne is destitute when she shows up on her aunt's doorway in Chicago one day in 1859. Her parents and siblings have all died, and Aunt Kitty is the only relation she has left in the world. But her aunt isn't exactly thrilled to see her. As the first female working for the Pinkerton Detective Agency, she often has to go in disguise or slip away to other cities. She thinks Nell, as Kitty decides to call her, would only be a burden and probably better off in the Home for the Friendless.
Nell decides to prove her value and win a place in Kitty's home as well as her heart. She makes herself useful around the boarding house, and she even gets to help out with some detective work. But before she can feel truly accepted, she'll have to unravel the mystery of what happened the night Kitty's husband died, splitting the family apart.
The Detective's Assistant by Kate Hannigan is funny and touching while also shedding light on such historical happenings as the Underground Railroad, boarding house life, the tensions leading up to the Civil War, and Abraham Lincoln's election and first inauguration. Nell is a wholly delightful character who can be both perceptive and clueless as to what's going on around her. She likes to read newspapers, has to work hard at learning correct grammar, and thinks the fashions of the day are silly even if she does want to wear them. She'll clomp her way to your heart while wearing her daddy's boots and have you cheering for her every step of the way.
I highly recommend The Detective's Assistant for mother-daughter book clubs with girls aged 8 to 12. Also, if you'd like to learn more about the author, check out my interview with her.
The publisher provided me with a copy of this book in exchange for my honest review.