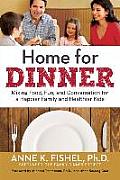 Anne Fishel believes in the positive impact family dinners can have on parents and children. She's so passionate about the idea that she cofounded The Family Dinner Project and wrote a book called Home for Dinner: Mixing Food, Fun, and Conversation for a Happier Family and Healthier Kids. Fishel recognizes how difficult gathering everyone around the dinner table can be these days. Parents work, kids have sports, music lessons and other after-school activities.
But Fishel is also aware of the studies that tie "shared meals to increased resiliency and self-esteem in children, higher academic achievement, a healthier relationship to food, and even reduced risk of substance abuse and eating disorders." With all of these benefits, connected to one simple activity, how can parents not make it a priority? The trouble is figuring out how to make it work.
Home for Dinner provides the blueprint. Certainly there are recipes for easy dinners in the book. But Fishel recognizes that the food is sometimes the least important part of a family meal. So she gives tips for conversation starters, ideas for making mealtime less stressful, and other suggestions to get the whole family on board with the concept.
Fishel doesn't talk down to parents or scold them for not doing well enough; instead she gives them helpful support to make meaningful changes to daily family life. I highly recommend Home for Dinner for any parent who struggles to put healthy food on the table night after night.
You may also find helpful this slide show featuring some of the recipes in the book.
The publisher provided me with a copy of this book in exchange for my honest review.