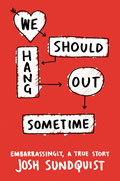 Looking back on his relationships since middle school, 20-something Josh Sundquist realizes he's never had a true girlfriend. He sets out to reconnect with the girls whom he almost connected with to help him discover what he's doing wrong. Josh tells the story about what happened with each of his almost girlfriends in his memoir, We Should Hang Out Sometime: Embarrassingly, a true story.
If you've ever felt as though you had a missed opportunity with someone you wanted to date, this book is for you. Sundquist's story will take you back to your own awkward teen years, when it was hard to read clues from the opposite sex to know if they "liked you, liked you" or just "liked you." Finding out often meant putting your pride on the line and facing rejection or always wondering "what if."
Complicating the issue for Sundquist was the fact he is an amputee, and his leg prosthesis made it difficult for him to dance, play sports, walk, etc. like other people. He was never sure if relationships didn't gel because girls were turned off by that fact or if they just didn't like the person he was.
While I would have liked to know more about the final, current relationship Sundquist sums up at the end of the book, overall I thought it was a good look at the angst and joys of learning how to communicate and express interest to someone you would like to date.
The publisher provided me with a copy of this book in exchange for my honest review.