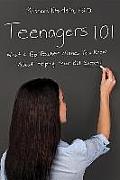 As a teacher for many years at both public and private schools, Rebecca Deurlein has seen her share of teenagers. And while some people may wonder at how she could spend years in a classroom dealing with teen behavior, she says she loves teenagers. It was her desire to help them and their parents that led her to write the book Teenagers 101: What a Top Teacher Wishes You Knew About Helping Your Kid Succeed.
Writing from the perspective of someone who has both raised children and interacted with thousands more, Deurlein has insight that is sure to help parents in dealing with their own teens. Topics she covers include how to motivate kids, how to encourage them to persevere when technology supports instant gratification, how to get kids to accept responsibility, and more. She has the unique perspective of seeing not only how kids behave, but also how parents sometimes unwittingly undermine the behavior they hope to encourage.
Before reading Teenagers 101 I was a bit worried that Deurlein would sound too smug in her observations and recommendations, but I found her writing to be straightforward and helpful. She gives examples based on her experiences and the experiences of other teachers she knows. Throughout, it's easy to see that she cares about teens and wants to help them become successful adults.
While the book doesn't address every issue that may come up as you are parenting teens, I found it to be a supportive guide on a variety of issues and recommend it for parents of teens and pre-teens.
The publisher provided me with a copy of this book in exchange for my honest review.