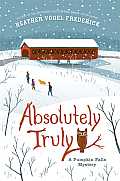 Twelve-year-old Truly Lovejoy is truly unhappy to move from Texas to New Hampshire so her dad can take over the family bookstore. But her grandparents needed to retire and her father needed time to heal and look for a new occupation after a war injury changed his physical abilities.
So once again Truly is starting over at a new school trying to make new friends. Not an easy task when she towers over all the other middle schoolers. But when she discovers an unusual note in a rare copy of Charlotte's Web, she finds that the hunt to solve the mystery helps her settle into the community in unexpected ways.
In Absolutely Truly, Heather Vogel Frederick (author of The Mother-Daughter Book Club series) brings together a variety of story lines to create one satisfying tale. There's the large family with a wounded war veteran dad who's having difficulty adjusting to life as an amputee. There's a girl who feels awkward because she's so much taller than most of her peers. There are the benefits and drawbacks of living in a small community where most people know each other. And there's the mystery of the note, which helps broaden Truly's circle of friends as she involves them in figuring out a series of clues.
Fans of Frederick's mother-daughter book club books will find a lot to like in Absolutely Truly. As in that series, the story here unfolds gently, letting readers get to know the characters and appreciate their quirks along the way. Truly is also a strong role model for young girls: smart, active, respectful, and a good friend. Her struggles with schoolwork and interactions with her siblings make her easy to relate to. I highly recommend Absolutely Truly to mother-daughter book clubs with girls aged 9 to 12.
The publisher provided me with a copy of this book in exchange for my honest review.