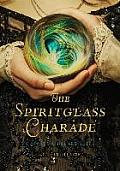 Evaline Stoker and Mina Holmes are back on a case. The vampire-fighting sister of Bram Stoker (author of Dracula) and the niece of Sherlock Holmes team up in the second novel of the Stoker & Holmes series for young adults, The Spiritglass Charade. This time they are tasked with investigating the case of a young woman obsessed with spiritual mediums and séances. Willa Ashton's mother has recently died and her younger brother, Robby, has disappeared. Willa is convinced her mother speaks to her and that Robby is alive. Evaline and Mina quickly discover that someone seems to want Willa, herself, out of the way, and the culprit is willing to make Willa seem mad in the process.
As in the first book of the series, The Clockwork Scarab, all the delightful details of an alternative, steampunk London of long ago are here. Electricity is outlawed and most things run on steam, with cogs falling into place to turn wheels. The atmosphere is dark, and gritty, with levels of sidewalks built upon one another. The lower levels, of course, are where the riff-raff and the action are, and the two crime fighters have plenty of reason to find both.
While Evaline and Mina are a mismatched pair, they have learned to expect each other's strengths, and they are settling into an easy partnership. Things are also heating up with the romantic interests from the first book: Dylan, a time-traveler who seeks to get back to his own time, Ambrose Grayling, a young Scotland Yard inspector, and Pix, a master of disguise who seems to know everything that goes on in the underworld.
The Spiritglass Charade successfully uses an obsession from the real historical timeframe—the popularity of spiritual mediums and talking with the dead—to create an imaginative, action-filled story that never stops delivering. I recommend it for readers aged 12 and up.
The publisher provided me with a copy of this book in exchange for my honest review.
Save