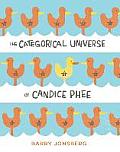 Candice knows she sees things a little differently than most people. She also knows she's a truth teller—she says what needs to be said whether it's polite or not. When she gets an assignment to write about something that happened to her in the past, using every letter of the alphabet to start a new paragraph, she decides to expand on it and use each letter to write a chapter of what is happening in her life to help her make sense of it all. Along the way she discovers the formula for fixing what's broken in the lives of everyone important to her.
The Categorical Universe of Candice Phee by Barry Jonsberg features an endearing title character facing a lot of issues. The kids at school make fun of her. Her pen pal in America doesn't answer her many letters. Her new best friend believes he's from another dimension and wants to return to his own time. Her father and uncle have been feuding for forever. And her mother frequently doesn't feel up to leaving her bedroom. It's up to Candice, the truth teller, to get them all to see that life could be so much better.
Chapter by chapter, alphabetical letter by letter, Candice works her way into your heart and takes up residence there. I highly recommend The Categorical Universe of Candice Phee for mother-daughter book clubs with girls aged 9 to 13. It's funny and thought provoking, and the story will touch you long after you have turned the last page.
The publisher provided me with a copy of this book in exchange for my honest review.
Save