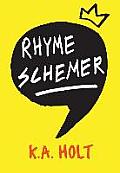 Kevin is the youngest of five boys, and it seems to him that his parents have no time to think about him. One of his brothers bullies him, and he in turn takes it out on other kids in school. When the class nerd ends up finding Kevin's lost notebook that contains poetry he's written, the bully becomes the bullied. His situation starts to turn around when a perceptive teacher figures out how to help him address his issues and acknowledge his strengths.
Rhyme Schemer by K. A. Holt examines how a sensitive soul can go off track. Kevin is smart and insightful, but he acts out at school hoping it will get him the attention he craves at home. His parents aren't bad, they've just fallen into a pattern of believing certain things about each of their children and stopped noticing anything that doesn't reinforce their perceptions. They're also a little overwhelmed working and raising five sons.
Told in free verse, Rhyme Schemer shows the importance of having someone believe in you and recognize the strengths you have. While the free-verse format makes it easy to read quickly, the text begs for lingering over or even a second reading to get the most out of the meaning. Here's an excerpt from one of Kevin's notebook entries:
"There are people who talk
so much
all the time
forever
with words falling from their mouths
like crumbs
from a sandwich.
But then there are people who never talk
hardly ever.
Except with their eyes
and their head-tilts
and their lips that can smile and frown
at the same time.
Mrs. Little says so much
without ever
ever
SHOUTING ABOUT RESPONSIBILITY."
I highly recommend Rhyme Schemer for mother-daughter book clubs with girls aged 10 to 14. Issues to discuss include why kids bully and what can be done about it, from the perspective of all involved, including bystanders. Club members could even try their hands at writing poetry to share with the group.
The publisher provided me with a copy of this book in exchange for my honest review.