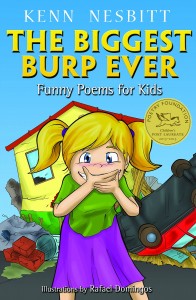 Kenn Nesbitt firmly believes that reading funny poems helps kids learn to read by making them laugh and want to keep turning pages. If that's the case, then his newest book, The Biggest Burp Ever: Funny Poems for Kids, should create new bookworms by the droves. Every poem delivers a chuckle, a giggle, or a guffaw, and kids (as well as a few parents) are likely to see a little bit of themselves in the poems too.
In a sign of the times, many of the poems are about kids and other family members using technology, like this poem:
im rlly gd @ txting
im rlly gd @ txting.
i do it all day lng.
im spedy on the keybrd
n my thms r supr strng.
Other poems are about kids trying to get out of homework and stay home from school, kids dealing with family members, and kids and pets. Illustrations by Rafael Domingos are simple and playful, like the one of a pirate in a tutu doing a pirouette with a raised sword to go with the poem, "I'm a Pirate Ballerina."
The whole collection is fun and funny, and you and your kids will be inspired to read them again and again.
The author provided me with a copy of this book in exchange for my honest review.