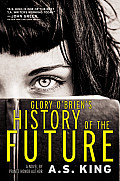 On the cusp of graduating from high school, Glory O'Brien is in the midst of a crisis that only she knows about. Her mother committed suicide when she was four, and Glory worries that even though she doesn't feel depressed about her future, somehow she is destined to follow in her mom's footsteps. She's having a hard time communicating with her best friend, who mostly wants to talk about herself anyway. She's frustrated that no one really talks about what happened with her mom, and everyone expects her to move on.
Then one day Glory can see the past and future of everyone she looks at. The future looks bleak, with a second Civil War started in the U.S., and the rights of women curtailed. As she searches for herself in those future visions, she finds a way to move forward in the present.
Glory O'Brien's History of the Future by A.S. King explores the pressure teens feel to have things figured out for themselves by the time they finish high school. Glory's situation is complicated by the tragedy in her family and the fact that she doesn't feel like she can talk about it. The magical realism of Glory's visions of the future add another layer to her confusion and the pressure to get things right in the present.
As in her other books, author A.S. King is not deterred from taking on big issues: how suicide affects family members, society's expectations for women, and sexual activity among teens. Glory O'Brien's History of the Future can inspire thoughtful conversations about those issues and more among book club members aged 16 and over.
The publisher provided me with a copy of this book in exchange for my honest review.