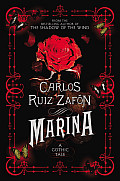 Oscar lives in a boarding school in Barcelona, and while wandering the streets after school one day, he hears a melody that draws him to an old mansion overgrown by vines. Startled by the owner, he accidentally takes a watch. When he returns it, he meets Marina, who lives alone in the house with her painter father and a prescient cat.
As Oscar spends more time with Marina and her father, he realizes their lives are marked by the tragic death of her mother and a current illness. Marina finds solace in Oscar's company, and the two branch out to explore the city. While out, Marina leads Oscar to a cemetery, where she has noted a mysterious woman in a black veil leaving flowers on an unmarked grave. As the two delve into the mystery, they uncover a long-ago tale of madness and destruction that threatens their own safety.
As with much of Carlos Ruiz Zafon's work, Marina creates its own genre. Part horror, part love story, part mystery, and more, Zafon weaves a tale that is both complicated and fascinating, hooking readers with vivid descriptions of crumbling mansions, dark streets, damp sewers, tragic lives. Characters from Zafon's other novels make cameo appearances, tying in the stories of people readers may be familiar with.
Marina is a dark tale well told that will keep you enthralled until the last word.
The publisher provided me with a digital copy of this book in exchange for my honest review.